WWI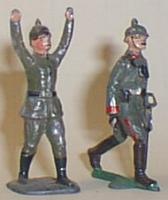 German infantry in pickelhaubes, the man surrendering is hollowcast made in France by L.P. during the late 1920's. The officer marching is solid lead and was made by AUTHENTICAST in the Republic of Ireland during the 1950's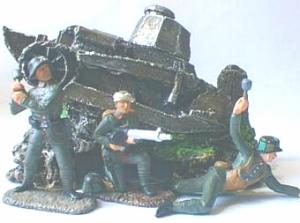 German stormtroopers from 1916, these plastic figures are conversions built around modern commercial figures made by ARMIES IN PLASTIC.
The burnt out Renault tank in the background is an aquarium ornament.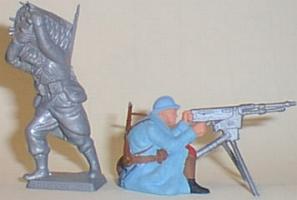 French infantry by MOKAREX. These came unpainted and were given away free with tins of cofee.
A poilu in a kepi repairs a trench wall with a wicker gabion while another in an Adrian helmet mans a Hotchkiss machine gun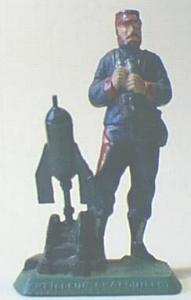 Another by MOKAREX. An artillery officer with a crapouillot (little toad) which was a small mortar, ideal for use in the trenchs but which had not seen service since the Mexican War under Napoleon III.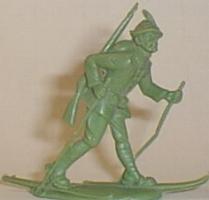 An Italian Alpini skiing by G P GAVICCI of Italy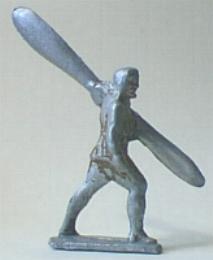 A pilot officer carries his propellor, a 60mm aluminium figure by QUIRALUX.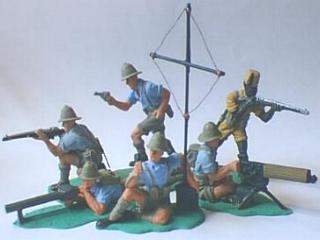 Empire troops from the campaign in German East Africa, all conversions from AIRFIX and TIMPO 8th Army with metal heads
During WW1 the Kings African Rifles wore a smaller fez which was more like a pillbox cap but somehow it just didn't work for me so I've given them the later taller version. I got the idea for the radio mast from those great ELASTOLIN composition figures.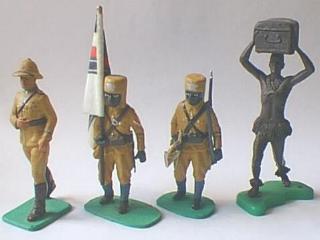 The opposition in GEA, a Schutztruppe officer with two askaris and a native bearer, the latter by DULCOP of Italy.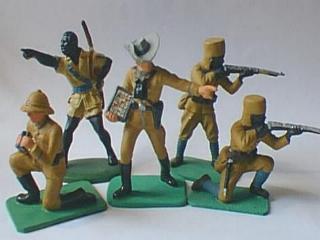 More of the same, conversions from DEETAIL and AIRFIX figures
Return to: Home page