napoleonic figures
This page shows original figures and also some of the conversions from my collection.
The first three pictures show a set of eight Russian infantry currently (2003) being produced in Russia in plastic.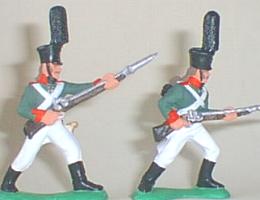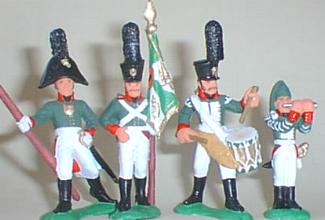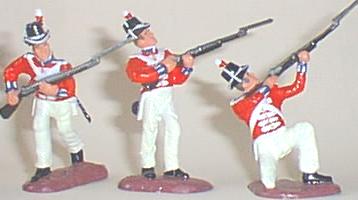 These Royal Marines firing into the rigging of a French ship were converted from BMC Alamo Mexicans and just given metal heads.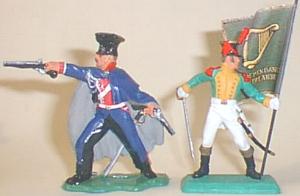 The Polish Lancer is by REPLICANTS and the Officer of the Irish Legion is a repainted DEETAIL figure with a paper flag.
Click here to view REPLICANTS website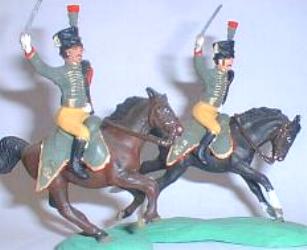 On the left are two hussars by DULCOP of Italy, painted as chasseur a cheval of the Imperial Guard. Not strictly conversions as no changes were made to the original figures, just a paint job. The rather nice horses were originally made by LONE STAR for their swoppet series of figures.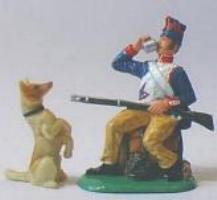 On the left the infantryman drinking started life as an American Civil War figure by A CALL TO ARMS, the head was changed for one by HISTOREX and his tunic was trimmed down, the rest is just a paint job. The begging dog is by CLAIRET of France.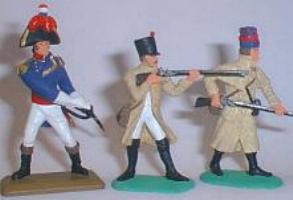 The Napoleonic General to the left was made from the legs of a DEETAIL French officer, the body of a CHERILEA US cavalryman and a TIMPO head. The two infantry in greatcoats are ACCURATE American War of Independance figures with HISTOREX heads.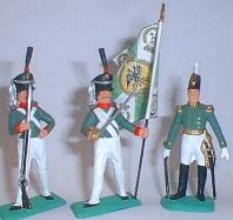 The two Russian infantrymen were originally French line infantry drummers by DULCOP while the officer is the Santa Anna figure from the BMC Alamo playset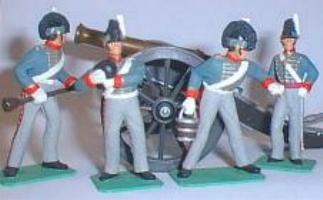 The British Horse Artillery are converted from TIMPO Prussian infantry, except for the officer who was formerly a West Point cadet. The heads are from HELMET kits and the gun is by Dulcop.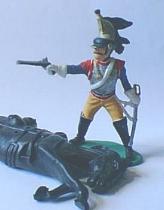 This dismounted Cuirassier is a complex conversion made from the legs and arms of an AIRFIX 7th Cavalry officer with the head and torso from a DEETAIL Cuirassier and a nice heavy pistol from an IDEAL pirate. The wounded horse is from the BMC Battle of the little Big Horn playset.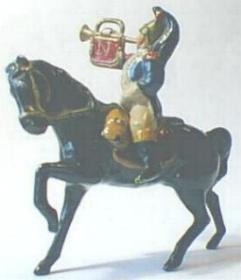 A Cuirassier trumpeter by JSF of France, originally made in hollow cast lead, this one was made in hard plastic around 1960.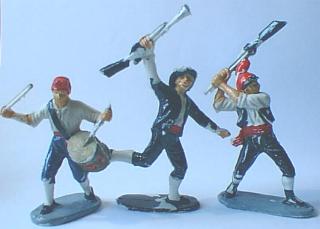 These are Spanish Guerillas by JECSAN of Spain.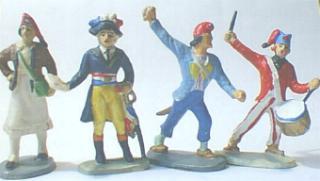 Four figures from a set of the French Revolution by JIM of France. A Cantiniere, an Officer with a proclamation, a revolutionary wearing clogs holds a sword aloft (broken) and a drummer boy.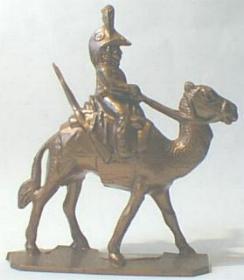 This one piece casting of a trooper from Napoleon's dromedary corps in the Egyptian campaign of 1801 was a premium that came free with coffee by the French firm LEGEAIS. The man would be about 45mm scale.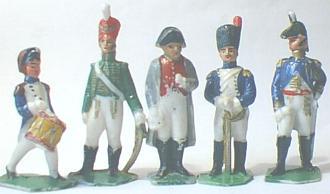 Napoleon with his Marshals and a drummer boy by JSF of France.
Return to Home Page