Medieval III
This page is dedicated to the non-European Medieval world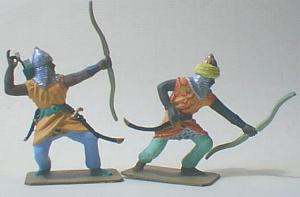 These archers were converted from BRITAINS DETAIL Turks. Charles Biggs the design director at BRITAINS told me that when he commissioned this set his brief to the sculptor was to produce a generic enemy to fight the existing range of knights. The result is that the figures appear vaguely Eastern but sport a mixture of armour and costume styles that bear no relation to any specific army or period in time, the nearest I have been able to find are the Crimean Tarters of the 15th Century. BRITAINS have always produced the Turks in black plastic (making them the badies I suppose) which is a shame because Eastern armies are notable for their flamboyant colorful costumes, a spot of paint certainly transforms these figures. The other oversight was that no archers were included in the set yet the composite bow was a major feature of all medieval eastern armies.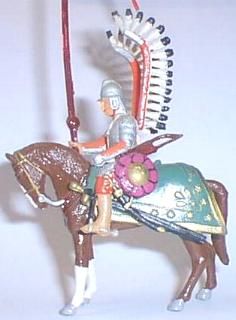 This highly detailed Winged Lancer was made in Poland, probably for the tourist market, during the 1960s or 70s. It is made from reconstituted plastic, which is in common with most figures produced in the old Eastern Bloc until the fall of Communism. This material is easy to identify as it is rather brittle and slightly transparent, it was obtained from the scraps of plastic that had been leftover from the manufacture of everyday domestic items such as toilet seat covers. The scraps were simply ground down and fed back into the injection moulding machine, however the effect of this second melting was to reduce the quality of the plastic.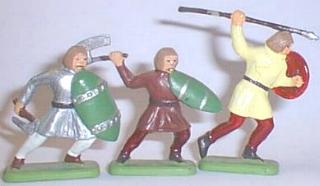 Eastern European men at arms, possibly Hussites, the first two are armed with the distinctive adze (axe) of that region. Maker unknown, I seem to recall they were made in Poland or Czechoslovakia during the 1970's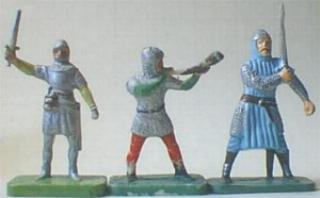 More Polish made men at arms, this time in light mail armour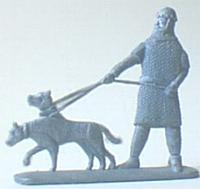 The Dogs of War? This is a flat plastic figure, part of a large set produced in the old Soviet Russia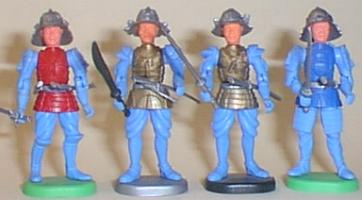 Samurai made by RES PLASTICS of Milan, Italy sold as gifts in Kinder Eggs. There are four figures in the set, each is completely different from the others. They swivel at the waist and neck, the arms move and the elbows are jointed.
Return to: Home page