DISPLAYS
There was a time when I kept all of my toy soldiers in cardboard boxes, sorted by period or type and stuffed away in various cupboards around the house. One day an elderly collector visited me and gave me a friendly telling off for the atrocious way I stored my collection, he was right, of course, and from that point on I resolved that any figure which didn't go on display would have to go out the door!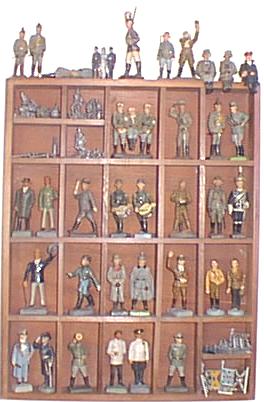 This is a modern display panel based on the design of the old printers boxes, the size of the compartments are just perfect for 7cm toy soldiers and I use it to hold composition personality figures by a variety of makers.
Among the characters on display here you might pick out Roosevelt, Eisenhower, Churchill, Stalin. Zukhov, Mussolini, Hitler, Goebels, Goering, Raeder, Von Hindenburg, Von Mackensen and Von Blomberg.
This is an original printers box, you used to be able to find these in street markets everywhere for next to nothing until just a few years ago, now they're getting harder to find. They used to be used to store blocks of print before computerised typesetting made manual typesetting obsolete.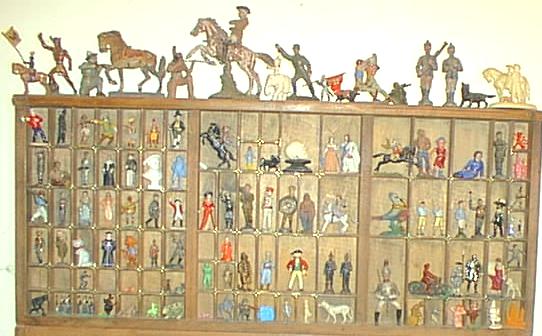 A printers box is ideal for storing all those odds and ends of figures that don't fit comfortably into any other category, the variation in size of the compartments negates the need for any sense of uniformity and makes for an imaginative selection. These boxes are invariably covered in the grime from decades of printers ink but they clean up very easily with a drop of metholated spirit on a soft cloth and the compartments are held together with small brass fittings that just need a wipe of metal cleaner. The printers boxes are the only part of my collection on display in the living areas of my house where they invariably draw interest from adult visitors and keep young children quietly amused for hours (which is how we like them best!)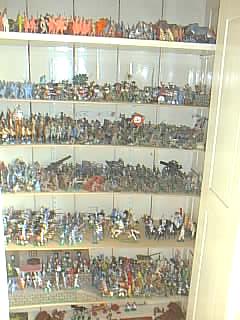 This is an old Victorian pine wardrobe built into the alcove formed by a chimney breast, by simply adding a few more shelves it makes a good dust free display area while retaining an original feature of the room.
The shelves display figures from the following periods:
English Civil War : WW2 Composition
Medieval : Renaissance : 7 Years War
For a close up view click HERE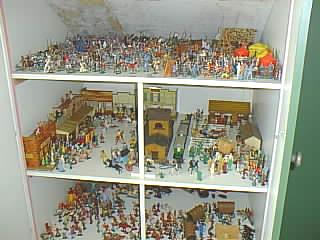 These dioramas are in cupboards built into the eves of an attic room, ideal for making large displays in what would otherwise be dead space.
For a close up of each display click on the link below:
Medieval Battle : Civil War Battle
Western Town : Indian Village : Alamo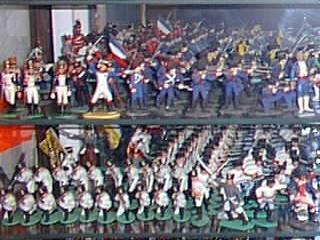 I keep my Napoleonic soldiers in a glass case which has glass shelves and a mirrored back to allow maximum light in and give the appearance of greater depth. You need to be careful not to store your collection in direct sunlight or the paint will quickly become faded, on unpainted figures the plastic becomes transparent.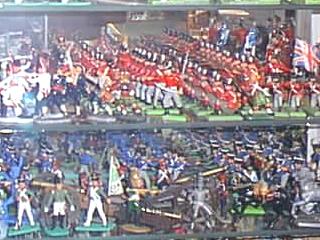 The picture above shows French and Austrian infantry, to the right are English and Prussian infantry, with a few Russians thrown in for good measure.
Return to: Home page